JBL Cinema 610 5.1 Home Theatre, Speaker System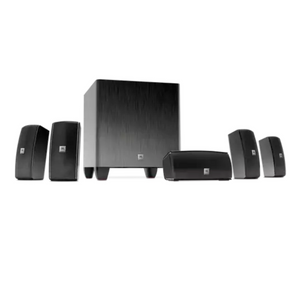 Bring home theater to life
Turn your flat panel TV into a full home theater with the JBL Cinema 610. Easily connectable

to any audio/video receiver, the JBL Cinema 610 delivers a box office experience that can't

be matched anywhere else. Sink into pure JBL bliss with an 8" bass reflex, 100W powered

subwoofer with 5 identical voice-matched satellite speakers, and a dedicated center speaker

to ensure you receive flawless sound reproduction and perfect dialogue reproduction

from all your music and movie sources. With customized wall-mount options and an easy

plug-and-play format, you're headed to the movies in no time.



Easy-to-install system




Voice matched satellites for detailed listening




Dedicated center channel for vocal clarity




8" (200mm) powered subwoofer for deep rich bass




Wall brackets (built-in) and loudspeaker cable included



This is a fantastic place better than Amazon for prices, service and a shoulder l should support for tech, audio and av solutions.

David Fraser, Google CET reviews
Friendly and accommodating staff. Great products. They offer discounts to churches (there's a minimum purchase value). Really does cater to all your audiovisual needs. I'll surely shop there again.

Shamillia Rock, Google CET Reviews
Quality items at affordable prices with knowledgeable and helpful staff. If what you are looking for is available here it doesn't make sense importing through a freight forwarder.

Mark Buckmire, Google CET Reviews
I've bought from them in the past on a few occasions and it's always been a good experience. I recently made a purchase and happened to have a manufacturer issue. CET immediately replaced the item with the least inconvenience to myself. When buying these types of equipment, it really is best to use a local and reliable supplier and CET is hands down my choice.Plus the staff are always helpful and respectable. Good job folks.

Raees Rahim, Facebook CET Reviews