Roland GO:LIVECAST Live Streaming Audio and Video Studio for Smartphones and Tablets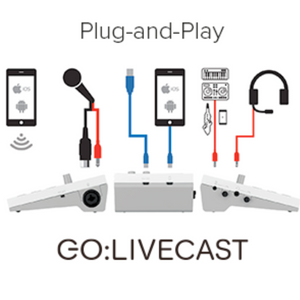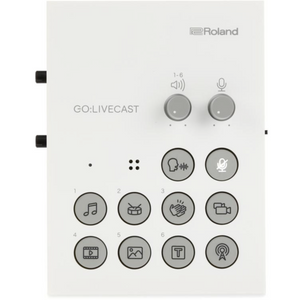 Pro Production for Smartphone Livestreaming
Although it's easy to stream live content with your smartphone, making your broadcasts look professional takes more effort. That's why you need GO:LIVECAST, the simple and affordable way to bring superior production values to your webcasting. This hardware/app combo is a fully-featured streaming studio that lets you mix sound, display titles, play media, trigger sound effects, and more—without needing a computer or costly dedicated A/V gear. With just the GO:LIVECAST hardware, companion app, and your smartphone, you have all the tools you need to present engaging live web shows that will rival the most advanced creators on social media.
Using GO:LIVECAST is quick and easy—just plug in your smartphone and connect earbuds or headphones for sound monitoring. A built-in mic is ready to capture high-quality sound, complete with onboard reverb if you like to sing. An external professional mic is also supported via the XLR input, and there's even a stereo line input for plugging in a guitar preamp, synth, mixer, or other sound source.

The GO:LIVECAST app includes easy-to-use media tools that bring premium production values to your web shows. Create your own personalized libraries for music, sound effects, photos, and videos, or start creating with a variety of pre-installed options. Custom titles and text are also available, enhancing your productions even further. Media elements for different shows can be stored in Live Sets, all queued up and ready for when it's time to go live.

The GO:LIVECAST app logs in to your accounts on Facebook Live, Twitch, YouTube, and other major streaming services.* Just select a platform and tap to start webcasting! And as you livestream, comments from your viewers can be monitored via a scrolling window in the app.
A Mini Broadcast Studio at Your Fingertips
Via a simple, customizable control layout, the GO:LIVECAST hardware lets you direct your live presentations and stay fully engaged with your audience. All it takes is a touch to start broadcasting, play music, display titles, launch photos and videos—or even trigger some applause at the end of the show! Knobs provide quick control of mic and media volumes, while the mic-mute button will keep coughs and unwanted sounds out of your livestream.

Select your smartphone's front or rear camera within the app and add a skin filter, if needed, to soften the look. Portrait or landscape mode is automatically set by your phone's positioning, while in-camera mirroring displays the proper left/right perspective to your audience. It's even possible to connect a second smartphone camera over wi-fi, with one-touch switching and support for split-screen views. Version 1.10* of the GO:LIVECAST app supports streaming sound and images from a second phone via its screen record function. This allows gamers to stream live feeds from the second phone while overlaying picture-in-picture from its front-facing camera.

Specifications

Connectors

    MIC jack: Combo type (XLR, 1/4-inch TRS phone, phantom power DC 48 V, 6 mA max.) LINE IN jack: Stereo miniature phone type

    HEADPHONE/HEADSET jack: Stereo Miniature phone type (Stereo, CTIA)

    USB POWER port: USB Micro-B type

    USB SMARTPHONE port: USB Micro-B type

Controller

    MIC knob

    PAD knob

    LINE IN knob HEADPHONE knob

Indicator

    POWER indicator

Current Draw

    330 mA

Dimensions

    107 (W) x 138 (D) x 53 (H) mm

    4-1/5 (W) x 5-2/5 (D) x 2 (H) inches

Weight (excluding cables)

    180 g

    6 oz

Accessories

    Leaflet "Quick Start"

    Leaflet "USING THE UNIT SAFELY"

    Lightning to USB Micro-B type cable

    USB Type-C(TM) to USB Micro-B type cable

    USB Type-A to USB Micro-B type cable

Compatible Product

    Please check this URL for the latest compatibility information: http://roland.cm/golivecastcp

 
This is a fantastic place better than Amazon for prices, service and a shoulder l should support for tech, audio and av solutions.

David Fraser, Google CET reviews
Friendly and accommodating staff. Great products. They offer discounts to churches (there's a minimum purchase value). Really does cater to all your audiovisual needs. I'll surely shop there again.

Shamillia Rock, Google CET Reviews
Quality items at affordable prices with knowledgeable and helpful staff. If what you are looking for is available here it doesn't make sense importing through a freight forwarder.

Mark Buckmire, Google CET Reviews
I've bought from them in the past on a few occasions and it's always been a good experience. I recently made a purchase and happened to have a manufacturer issue. CET immediately replaced the item with the least inconvenience to myself. When buying these types of equipment, it really is best to use a local and reliable supplier and CET is hands down my choice.Plus the staff are always helpful and respectable. Good job folks.

Raees Rahim, Facebook CET Reviews