Vivitek DU3341 5500 Lumens WUXGA DLP Large Venue Projector
Excellent Performance and Connectivity
Widescreen Installation Projector with HDBaseT™, 3D Surround Sound Audio and 3D Video Ready. Wide zoom range for flexible positioning. Ideal for Higher Education, Worship and Corporate applications.
Fill even the most expansive venues with immersive 3D video and surround sound audio with the powerful Vivitek DU3341 large venue projector. Capable of outputting 5,500 ANSI lumens of brightness with a 10,000:1 contrast ratio, the DU3341 delivers the high-performance auditoriums and entertainment spaces demand, but without sacrificing ease of installation and operation thanks to its centered lens and top-loading, sliding cover for quick lamp replacement. And to support hassle-free audio and video content sharing and streaming, the DU3341 features HDBaseT™ and MHL device compatibility.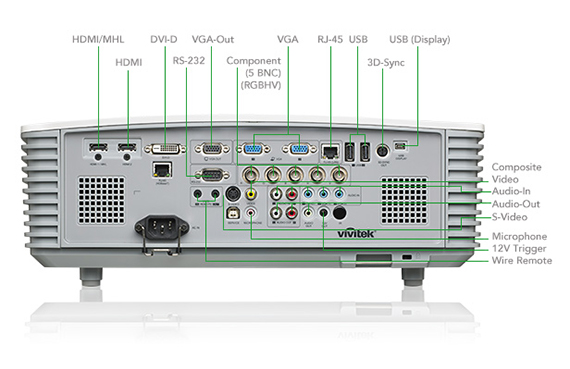 The Vivitek DU3341 provides the connections necessary for many diverse projection environments: HDMI v1.4, MHL/HDMI v1.4, Component (5 BNC) (RGBHV), S-Video, Composite video, VGA input for PC and Laptop, 3D Sync Out, Audio RCA in-out, Microphone-In, RS232, USB Type A (File Reader/USB Host), USB Type B (Service), USB Display (MINI B), USB Type A (Wireless Dongle), Wired Remote, RJ45 and 12V Trigger for automation.


5,500 Lumens


WUXGA (1920 1200)


16:10 format


HDBaseT    


Horizontal and Vertical lens shift


Electronic H &V Keystone  


Electronic Corner corrections


This is a fantastic place better than Amazon for prices, service and a shoulder l should support for tech, audio and av solutions.

David Fraser, Google CET reviews
Friendly and accommodating staff. Great products. They offer discounts to churches (there's a minimum purchase value). Really does cater to all your audiovisual needs. I'll surely shop there again.

Shamillia Rock, Google CET Reviews
Quality items at affordable prices with knowledgeable and helpful staff. If what you are looking for is available here it doesn't make sense importing through a freight forwarder.

Mark Buckmire, Google CET Reviews
I've bought from them in the past on a few occasions and it's always been a good experience. I recently made a purchase and happened to have a manufacturer issue. CET immediately replaced the item with the least inconvenience to myself. When buying these types of equipment, it really is best to use a local and reliable supplier and CET is hands down my choice.Plus the staff are always helpful and respectable. Good job folks.

Raees Rahim, Facebook CET Reviews